About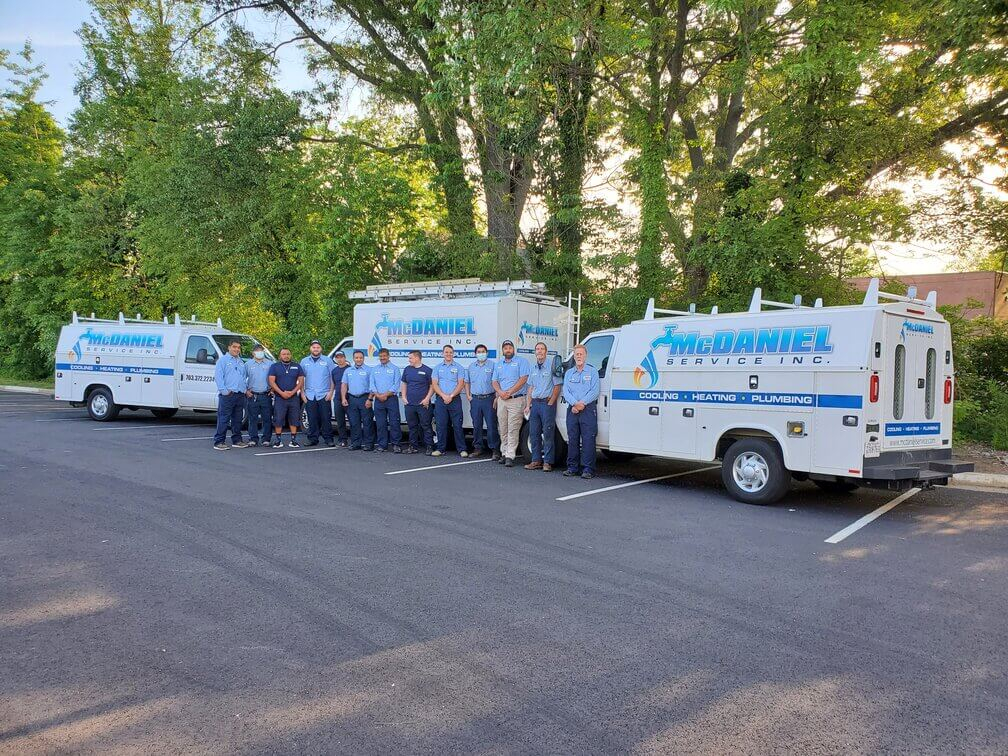 McDaniel Service, Inc is a Class "A" licensed and insured contractor providing air conditioning, heating, indoor air quality, plumbing, and gas fitting services to Springfield, VA and the surrounding areas. It's our goal to provide quality service and safe repairs and installations at reasonable rates. Our staff, technicians, and office personnel have over 300 years of combined experience, and we take pride in their training and expertise: we truly believe our technicians are the best around. You'll find there's not a more friendly HVAC and plumbing team. In fact, most of our customers know us by name when they call!
Our History
The owner of McDaniel Service, Inc started out in the HVAC and plumbing industry in 1969. After many years in the trade, he decided to open his own family-owned and operated HVAC and plumbing business in 2010. The company has grown steadily since thanks to our customer service-focus, commitment to high-quality service on every job, and dedication to keeping current with the best in industry technology. The company currently includes twenty-four employees and a fleet of fourteen vehicles to offer residential and commercial services throughout Northern Virginia and the surrounding areas.
Personal Service
You're more than just a number to us! We love helping families and local businesses, and we want you to know that we're here to take care of your needs. We don't use subcontractors: all our work is done in-house and we take responsibility for the services we perform. You can put your trust in us—we offer upfront pricing and will never start work until we have your prior approval. Our technicians are professionals through-and-through, always showing up to your home or business in company uniforms and ready to get to work. We carefully screen our employees with drug-testing and background checks.
A Message From the Owners
Hello,
For those of you who do not know us, my name is Bob McDaniel. I along with my best friend, business partner, and wife of 54 years, June McDaniel, are the owners of McDaniel Service, Inc. We are a family owned, Class-A cooling, heating, and plumbing service company located in Lorton, VA. I have been involved in the HVAC and plumbing industry for over 50 years. June and our son Rob have for over 30 years. We established McDaniel Service, Inc. in 2010. Since then, we have been very fortunate to hire who we feel are some of the best HVAC and plumbing technicians and installers in our work areas. We have built both a personal and business relationship with some of them going back 30 years. We believe in hiring the best professionals in the business and training new employees in house, on the job, and through the Virginia State apprenticeship training program, growing our team members to 24!
Through the years, we have expanded our work area to all of Northern VA, parts of Prince William Co., Reston, Herndon, and Chantilly VA. Most importantly, we would not have experienced the growth and success we have accomplished without the support of you, your friends, and our devoted customers. Without your personal referrals and kind words, we would not be where we are today, and for that we are very thankful!
We look forward to finding solutions to all of your HVAC and plumbing problems, and to continue to earn your trust and the trust of your friends, family, and the communities we serve now and in the future. Please contact us if you find yourself in need of HVAC or plumbing service, repair or installations, or if you just have a question. Remember, service is our middle name.
Thank you,
From Bob and June
and the team from McDaniel Service, Inc.