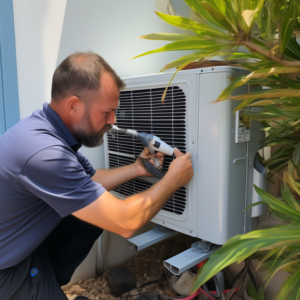 Air conditioning installation in Fairfax, VA, is a large home investment. It can be exciting to think about how it will make sure your home stays cool and comfortable during the hot summer months.
You may have questions and uncertainties about what the installation process includes. This is normal. Let's look at what to expect during installation so that you can prepare for a smooth and successful transition to a cooler and more comfortable home.
1. Assessment
The process often begins with a visit from a HVAC technician. They will assess your home's cooling needs. They will take into account factors such as square footage, insulation, windows and your climate zone. This assessment helps determine the right sized air conditioner for your space. It's important to get a unit that is sized properly for your home's heating and cooling needs.
2. System Selection
Once the technician completes the assessment they will recommend suitable systems that match your requirements and budget. You'll have the opportunity to discuss your preferences like energy efficiency and specific features before making a final decision.
3. Scheduling
Once you've chosen the right system for your home you'll schedule a convenient installation date. Be sure to plan for a time that works best for your schedule and allows you to be present during the installation process if desired.
4. Preparing Your Home
Remove any obstacles or clutter around the installation site, both inside and outside your home.
Make sure that the technicians can easily access the indoor and outdoor units. This will help the installation process proceed smoothly.
Cover or move valuable items that could be exposed to dust or debris during installation.
5. Installation Day
If you're replacing an existing system the old one will be safely removed and disposed of.
The indoor and outdoor units will be installed in their designated locations. The indoor unit is typically placed in a central area, while the outdoor unit is positioned outside your home.
The technicians will connect the new system to your home's electrical supply and make adjustments to your existing ductwork, if needed.
After installation the technicians will thoroughly test the system to make sure it's functioning correctly.
A final inspection assures that all components are secure and the system meets safety and efficiency standards.
6. Instruction and Documentation
The team will provide you with information on how to operate and maintain your new air conditioning system. They may also leave you with user manuals and documentation for future reference.
7. Clean-Up
The installation team will clean up the work area. This includes removing any debris or materials used during the installation process.
Installing a new air conditioning system is a large home improvement project that can enhance your comfort and energy efficiency. Knowing what to expect during the installation process can help you prepare and ensure a smooth transition to a cooler and more comfortable living space!
If you are ready for installation, contact McDaniel Service, Inc today to schedule your appointment! Service is our middle name!