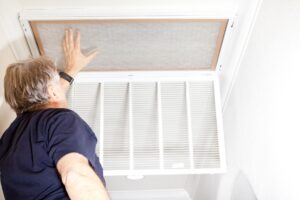 When we usually cover topics related to AC repair in Woodbridge, VA, they can get pretty complicated. When the discussion turns to your compressor or the electrical components required for air conditioning, our blogs can become hard to follow.
The reason for this is the fact that air conditioners are just a lot more complicated now than they used to be. You can't just fix a refrigerant leak yourself anymore, or patch up your condenser for the next year of AC. A professional HVAC technician is practically required for every type of adjustment imaginable.
Except for one!
If your air conditioner is having trouble, there is one thing you can do all on your own. That's right, you might not have to call for professional repairs at all, and your bank account might stay exactly the same. This involves changing the air filter, and it's a component that's responsible for a lot of the functionality of your system.