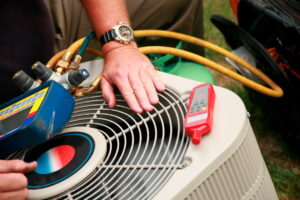 This is a tricky question. We're not one of those HVAC teams that will guilt you into paying for a service that you just can't afford.
But we're also not going to lie to you and tell you that your AC will be fine without maintenance, it likely won't be.
Maybe there's a middle ground that we can reach, something that will keep your air conditioner in good shape without breaking the bank.
Those kinds of compromises exist, and it's what we're here for. We wouldn't be a very good HVAC provider if we didn't have tools to help customers with tight budgets.
HVAC equipment can be expensive, and when preparing to pay for a service like repairs or air conditioning maintenance in Alexandria, VA, it can be easy to start cutting corners.
Let's talk about some of your options, as well as the results that can come if you do decide to skip maintenance this year, so you're prepared for the outcomes.
Is Maintenance That Important?
Yes, maintenance really is that important. But when we call something "important," that's a relative term that depends on a lot of things. For instance, car insurance is very important, but it's not important if you don't have a car or a driver's license.
Things that are important will change from person to person, so while we say that AC maintenance is important, we need to talk about how.
Maintenance is important because it mitigates problems that might happen in the future, while improving the energy efficiency and performance of the system. A well-maintained air conditioner will function better and use less electricity to do its job.
If you're on a tight budget, the most important metric might be the fact that there are reduced repair needs for an AC that's been maintained.
Avoiding Expensive Costs Later On
As you might be aware, air conditioning repair costs can be expensive. A problem with a blower motor or a refrigerant leak might cost a few hundred dollars to repair, but a compressor failure could be even worse. These expensive problems can break the bank on anyone's budget, so it's important to avoid them at all costs.
Maintenance is going to help reduce the chances that your system runs into one of these expensive repairs. So, by avoiding maintenance, you might pay more in the long run.
How to Pay for Maintenance
Maintenance can be paid on a month-to-month basis, and there are even financing programs that can help customers. Perhaps we can make some kind of agreement! The fact that you're going out of your way to protect your air conditioner from harm in the future means that you're trying your best.
Making the Right Call
We can't tell you what call to make. If maintenance is going to be the difference between being able to pay for school supplies or not, then your priorities should take the cake. But we think it's important that you at least know what you're getting into if you decide to skip maintenance.
And if you're stressed or worried about it, we'd advise you to call our team so you can be pointed in the right direction. We want to help, so let's talk about a way that you can pay for such a vital service without breaking your budget.
You can always count on McDaniel Service, Inc for help. Contact us today. Service is our middle name!