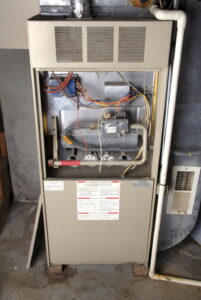 There are two types of heater repairs in Arlington, VA. There are repairs and then there are emergency repairs. You can probably imagine the difference when you close your eyes. A repair is going to be some kind of loud noise or a high heating bill–something that's bad but not going to stop you from feeling warm and cozy on a winter's night. An emergency repair would be something like smelling leaking gas or a broken down heating system.
Well, each of those types of repairs is going to require a different response. As your local experts, we want to make sure that you have the right response when you encounter a specific repair problem. So, this blog post is going to be an informative PSA about what constitutes an emergency heater repair, and what heater repairs might be okay for the next few days while you figure out a plan.
Emergency Repairs
Emergency repairs are different from regular repairs because of the urgency of the situation. A furnace that's leaking gas throughout your home is going to need attention right now, whereas a unit that short cycles or runs into efficiency issues when temperatures get cold is okay to wait until the next available HVAC appointment.
This is one big reason why customers choose us time and time again. We offer 24/7 emergency services for customers encountering a dangerous or broken down heating system, so you can always count on us to be there when you need us the most.
Here are a few examples of emergency repair needs.
Foul Odors or Carbon Monoxide
If you detect the scent of rotten eggs in your home, that's a cause for concern. This is a chemical called mercaptan which is added to natural gas to help our noses detect it when it's loose. Gas leaking in your house is a health hazard as well as a fire hazard and it can lead to some serious situations if it's not looked at properly and quickly.
Also, don't forget about carbon monoxide leaks. Carbon monoxide is a fume that's created through combustion in a furnace, and if it leaks out it can be poisonous and even deadly. Some symptoms of carbon monoxide poisoning are headaches, nausea, memory loss, and fatigue. If you start feeling ill, go outdoors and contact our team for emergency services ASAP.
A Broken Down Heating System
Another classic emergency repair is a broken down heater. This is an emergency because your home is going to get cold if it's not addressed quickly. Make sure you contact our emergency hotline for help with a broken down heater, so we can either get it back up and running or supply you with temporary heat for the time being.
Regular Repairs
If your system needs a fix but it's not on this list, then it might not constitute an emergency. But there are exceptions. Just make sure your family is safe and comfortable for the time being, and if not, then contact our 24/7 emergency hotline to let us know what the problem is. We'll take it from there.
With McDaniel Service, Inc, service is our middle name. Contact us today for any emergency repair needs.