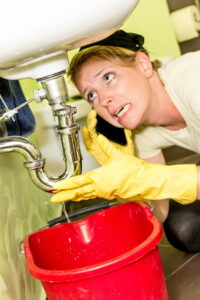 Have you ever wondered what it looks like inside of your pipes? Probably not–at least not until there is a problem within your plumbing that makes you wonder what the cause is. Being unable to see a problem makes it much harder to deal with. That's one of the many reasons that we provide video pipe inspections in Springfield, VA.
Scheduling a video pipe inspection provided by a trained plumber is going to make dealing with plumbing problems in your home much easier. Here are some great reasons to schedule this service the next time you notice something is off with your home plumbing.
4 Reasons to Invest in a Video Pipe Inspection
Here are four great reasons to consider scheduling a video pipe inspection to help deal with a plumbing issue in your home.
1. Helps identify the source of problematic clogs.
Are you having problems with drains in your home that are clogging almost constantly? If so, a video pipe inspection can help you identify the source of the problem. This applies to if the clog is in one drain or if it is deeper in the sewer line and affecting multiple drains at once. The cause can be identified and a plan can be made to deal with it quickly.
2. Gives you a comprehensive idea of what services are needed.
How do you know what services are needed unless you know what you are dealing with? Using a drain snake to try to clear a clogged toilet won't help you if the key problem is actually a blockage in your sewer line. Video pipe inspections are the first step to creating a direct and effective game plan to tackle plumbing issues.
3. Can help you see if a replacement is necessary.
Let's say you have a leaking pipe and you want to schedule repairs. Before you do that you should ask yourself whether you are a hundred percent sure that it is just a small leak. Video pipe inspection can help show you how big an issue is and allow you to determine whether you can get by with repairs or if we're placing a specific pipe section in the home is a better option.
4. Pinpoints issues deeper in your sewer line.
The fact is that sometimes plumbing problems are deeper in the system than you might realize. Having multiple clogged drains and pungent smells around the house are usually an indicator of a sewer line issue. The best way to confirm this without pulling up the whole sewer line is to schedule a video pipe inspection. once your plumber can identify the core issue, whether it is a regular clog or a tree root invasion, they can work with you to provide an effective solution.
Quality Inspection at a Reasonable Price
If you are having plumbing troubles you can reach out to our team to get them taken care of. We can provide a video pipe inspection that pinpoints and identifies the core issue which will allow us to create an effective solution to the problem.
In fact, if you need a video pipe inspection the best time to reach out is right now. When you schedule now you can get $99 off. Make sure to mention this promotion to schedule your service and get a great deal at the same time.
When something goes wrong with your plumbing system, contact McDaniel Service, Inc to get professional assistance that makes a difference. Service is our middle name.