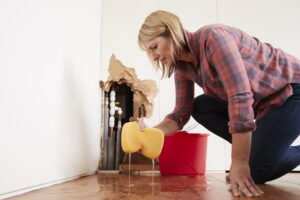 Did you host Thanksgiving this year? Or are you planning to have friends or family over for some extra quality time? If you are getting more people in your home lately then your plumbing is going to be seeing a lot of extra use which is why you need a reliable plumber in Woodbridge, VA to turn to.
Whether you need plumbing system maintenance or a full-blown repair, you can count on our team to provide the service you are looking for. With well-taken care of plumbing, you can enjoy better peace of mind this season and beyond.
Call a Plumber For These 5 Issues…And More!
You can count on the expert plumbers at McDaniel Service, Inc to take care of these plumbing issues and more. All you have to do is call!
You have slow or stopped drains: Your drains make the use of the majority of your plumbing appliances possible. Imagine having to empty the kitchen sink by hand each day! However, if your drains slow down or stop it can be a big issue that you may need a plumber to help with. We can use video pipe inspection to see the cause of the trouble and then provide an accurate solution, whether than be using a drain snake or flushing debris away with drain cleaning.
You have a toilet that is in trouble: Is your toilet behaving badly? This can show up in a variety of ways, from a toilet that flushes by itself to one that runs nonstop. You can trust one of our plumbers to assess the issue and provide the right solution whether that be fixing a faulty part or replacing the toilet as a whole.
Your water heater is acting up: You need a reliable source of warm water. If your water heater is struggling it can undermine your access to that supply of warm water. There may be a build-up of sediment in the system or a leak in a connection or pipe that is causing problems. These issues require proper service from a plumber to get your water heater working right again.
You suspect a leak in the house: Do you know the signs of a leak in the home? Reduced water pressure, water stains, an overactive water meter, and the sound of running water without cause are all indicators or a possible leak. Make sure to have a plumber check out your pipes to see if you have a leak that needs to be addressed.
You need help with your gas piping: Yes you do want to contact a plumber for your gas line needs. The lines that carry your gas supply are very much like your regular pipes which is why a plumber is able to handle them. From gas line installation to repairs, you can trust us to handle it.
These and other plumbing services are worth a call to a plumber.
Contact the plumbing professionals at McDaniel Service, Inc for your service needs. Service is our middle name.