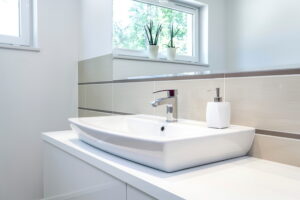 Everyone in the house uses the bathrooms. This means that having better plumbing systems and appliances in this room of the home is a good idea. After all, any upgrades you make will get plenty of use. But how can you be sure that an upgrade is worth your time and money? Can you get by with the bathroom plumbing you already have for a few more years? The truth is that it depends.
Let's get into the details on if and when it is a good idea to upgrade your bathroom plumbing. When you do decide to upgrade any of your home plumbing in Reston, VA, you can always come to us for guidance and quality service.
Why Upgrade Your Bathroom Plumbing?
There are plenty of reasons to upgrade your bathroom plumbing systems and appliances. Whether it is from necessity or by choice, you can count on us to help. Here are some great reasons to upgrade your bathroom plumbing:
You are looking to save water: Saving water is always a good idea and today's plumbing appliances aree made to be more water-savvy than their predecessors. If you want to work on saving water, upgrading appliances like your faucets, toilers, and showerheads and using low-flow versions of these systems is a great place to start.
You have problems with leaks: It feels like the plumber barely leaves before you are calling them to come back and patch another leak in your pipes. This is a sign that something is off with the pipes in your bathroom. An upgrade or replacement of these pipes can take care of this issue and save you time and money in the long run.
Your current plumbing is just too old: No part of your plumbing is likely to last forever.If you have a home that is about20 years old or more and hasn't upgraded its bathroom plumbing, it is probably past time to take a look at changing things up. Even just upgrading your sink faucet can improve things immensly.
You want to upgrade to increase your home value: Looking to sell or thinking about it? If so, one somewhat easy way to increase your home's value is with bathroom plumbing upgrades. newer, more efficient, and more modern-looking appliances, along with more efficiient pipes, can be an investment that gives your money right back when you find a buyer.
Professional Plumbers Are Here to Help
When the time comes to upgrade any part of your bathroom plumbing, we are here to help. The professional plumbers on our team are trained and ready to handle everything for a dripping faucet fix to a full bathroom remodel. We can even help you find better appliance options that you may not have known about!
Make sure your upgrades are done right with the help of an expert plumber. We will get the job done right at a reasonable cost.
Contact McDaniel Service, Inc to schedule your appointment or talk to a friendly professional today. Service is our middle name.