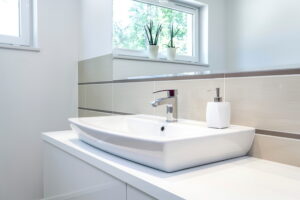 When you are asked to consider your home's plumbing, what do you picture in your head? It may be a kitchen or bathroom sink, that intriguing U-bend pipe under the sinks, a tub, or another part of the system. The common theme here is that a majority of your plumbing is encompassed within your kitchen and bathroom.
Here's the thing. Our team doesn't just help with the visible parts of your plumbing system like those faucets, sinks, or toilets. We also deal with all of the out-of-sight aspects such as the pipes and drain lines. We can even help with the cosmetic details that come with replacing larger parts of the system such as patching a hole in the wall made to get to a leaking pipe.
It is easy to see that when you need a plumber in Springfield, VA you can rely on our team for just about anything you need. But if you are still unsure whether we can help with your next project, we'll break down the plumbing system parts we can help with.