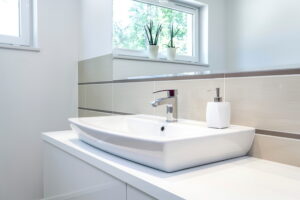 When you are asked to consider your home's plumbing, what do you picture in your head? It may be a kitchen or bathroom sink, that intriguing U-bend pipe under the sinks, a tub, or another part of the system. The common theme here is that a majority of your plumbing is encompassed within your kitchen and bathroom.
Here's the thing. Our team doesn't just help with the visible parts of your plumbing system like those faucets, sinks, or toilets. We also deal with all of the out-of-sight aspects such as the pipes and drain lines. We can even help with the cosmetic details that come with replacing larger parts of the system such as patching a hole in the wall made to get to a leaking pipe.
It is easy to see that when you need a plumber in Springfield, VA you can rely on our team for just about anything you need. But if you are still unsure whether we can help with your next project, we'll break down the plumbing system parts we can help with.
The Kitchen and Bathroom Plumbing We Can Help With
Here is a quick overview of the different aspects of your kitchen and bathroom plumbing needs that you can trust our professionals to help you keep in good condition.
Sinks
If you need a sink installed in your bathroom, that is something that you can come to our experts for. We can place and connect your sink and make sure that it is working right. This also means checking that the counter it is placed into is cut properly to fit the sink and that the seal around the sink is airtight.
If your sink develops cracks or leaks over the years, you can ask for our help with replacement too.
Faucets
What is a sink (or tub) for if it doesn't have a working faucet attached to it?
Our team is here to make sure that you have faucets in your home that you can rely on. From installing the faucet of your choice (we can even help you choose ones that help you save water), to connecting your faucet to the water line properly, we will make sure that this part of your system gets a great start.
Have a faucet that is dripping nonstop? Or one that seems to be struggling with scaling? Our team can help with faucet repairs and replacement too.
Toilets
That's right, you can come to our team for help with your toilet needs too. Toilet installation can be labor-intensive and tricky. If the wax seal isn't placed correctly for instance you are in for a lot of trouble! Thankfully you can come to us for this vital service.
You can also reach out to us for help if your toilet shows that it needs repairs. When your toilet has an unmovable clog, runs constantly, or flushes on its own, you can contact us for toilet repairs.
Pipe leaks, patches, replacement, etc.
We mentioned we can work with all the behind-the-scenes parts of your plumbing system too which of course includes your pipes. Water pipes, hot water lines, and drain pipes are all parts of your plumbing system that we can help with. From pipe installation to drain cleaning, pipe leak repair to whole-home repiping, we're here to provide.
Whatever plumbing service you need, contact McDaniel Service, Inc to get the job done right. Service is our middle name!